Canada Night 2023 Reception
May 11, 2023
2023-05-11
2023-05-11
Canada Night 2023 Reception
N.A.
America/New_York
Registration Open!

Hyatt Regency Atlanta
Thursday, May 11th 2023
5.30pm - 7.00pm
Executive Conference Room
265 Peachtree St NE, Atlanta, GA 30303
Canada Night Returns to the NAMA Show for 2023!
We invite all Canadian Vending and OCS Operators to join us for the return of our annual reception!
The Hyatt Regency is in the heart of downtown Atlanta and just a short distance away from the NAMA Show at the Georgia World Congress Center.
Industry Operators are invited as guests of CAMA. We look forward to seeing you in Atlanta.
Thanks to our Sponsors!

---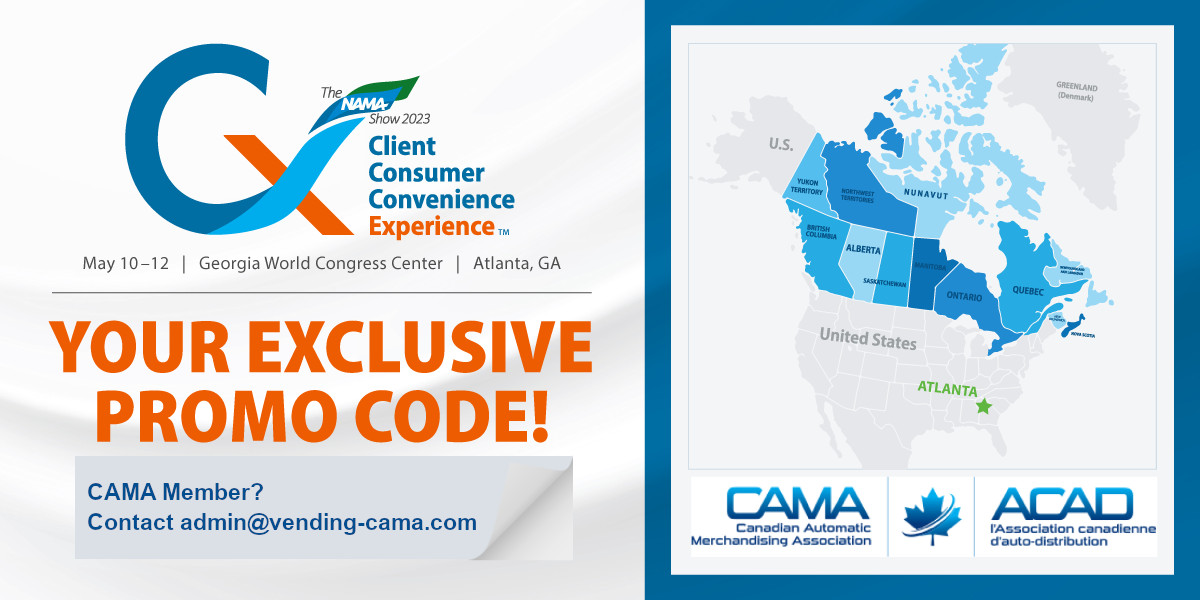 Not booked yet for the NAMA Show?
CAMA Members* get access to NAMA Member Rates: NAMA has extended member rates to CAMA members - that's a saving of $200 USD per registration!
Contact admin@vending-cama.com for details on how to claim.
Want to join CAMA? See the benefits and join online!
*Members must be in good standing for 2023 to receive the code.
Please contact us to renew your membership.
---
CAMA Corporate Supplier Members
The generosity of our supplier members in supporting this event is greatly appreciated and recognized.
Event Sponsorship is only $750. All sponsors will be recognized on the Canada Night tickets, on the CAMA website, and on event email notices.
To ensure the ongoing financial viability of this well-received and much sought-after event, we need to protect our sponsors' investment; therefore, we require that all supplier members attending the Canada Night Reception must be an event sponsor. If you have any questions, contact Marie Saint-Ivany at saint-ivany@vending-cama.com.
We thank you for your continued support and look forward to seeing you in Atlanta, Georgia!
---